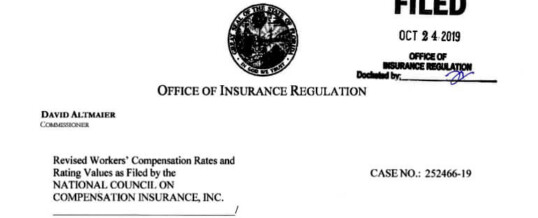 Effective January 1, 2020, Florida Workers' Comp Rates for new and renewal policies for other than the "F" classifications, the statewide overall rate level change shall be -7.5% for the filing.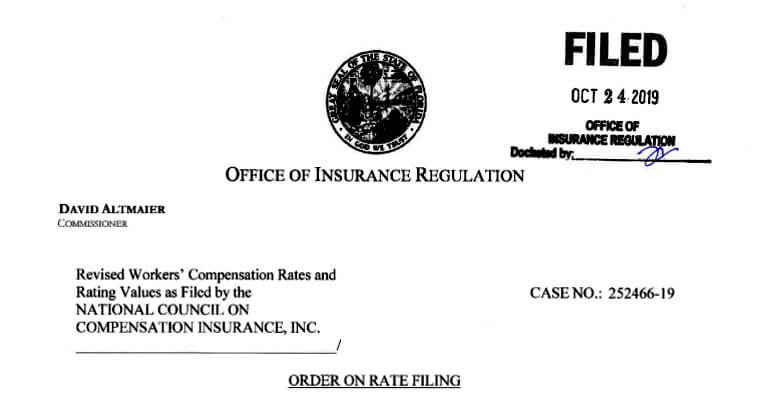 1-866-684-5684
Contact us to have your Florida Workers' Comp Rates verified.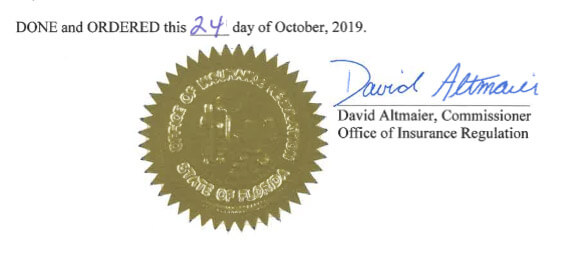 OIR Orders Larger Workers' Compensation Insurance Rate Decrease for 2020
Florida Insurance Commissioner David Altmaier issued an Order​ on Rate Filing on Thursday, October 24, 2018 to the National Council on Compensation Insurance (NCCI) requesting an amended filing to reduce workers' compensation rates by 7.5 percent for 2020.
The Order notifies NCCI that the rate filing submitted for a 5.4% rate decrease has been disapproved and, if amended by November 4, 2019, will be approved with the larger workers' compensation rate decrease.
Approval of a revised 7.5 rate decrease is contingent on the amended filing being submitted with changes as stipulated within the Order. If approved by the OIR, the revised rate decrease would become effective on January 1, 2020, for new and renewal business.
Source: Florida Office of Insurance Regulation
SimpleWorkComp helps business obtain affordable Florida Workers' Compensation Rates.
Our team provides small business with the highest quality coverage at the most competitive rates in the industry.
Over the past 20 years, thousands of business owners have come to discover the best coverage, services, and rates that are only offered by SimpleWorkComp. With over 100 years of combined experience, our full service staff will analyze your business to find the most competitive provider for your specific situation. We are able to negotiate the absolute lowest rates even for difficult to place industries such as construction!
We are a leader in the workers' compensation industry for two reasons, our service and experience! We provide everything the small business owner needs in one convenient location and treat each client like a VIP because to us you are! Beginning with the first phone call, you can expect complete satisfaction each and every step of the way.
Still not sure we can help?
Contact one of our expert staff completely free of charge at 1-866-684-5684! We are always here to help and happy to answer your questions about Workers' Compensation Insurance.
​
Share