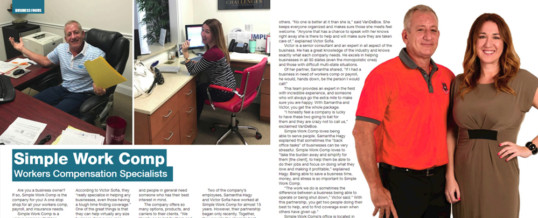 Earlier this year Focus Magazine wrote an article featuring Simple Work Comp's Victor Sofia and Samantha Hagy. The article highlights Simple Work Comp's unique approach to helping businesses find affordable workers' comp, payroll solutions, insurance, and more.
---
Simple Work Comp: The Work Comp Specialist
Are you a business owner? If so, Simple Work Comp is the company for you! A one stop shop for all your workers comp, payroll, and insurance needs. Simple Work Comp is a unique company that has been around for almost twenty years.
The company is owned by Frankie VanDeBoe, but Samantha Hagy and Victor Sofia also play a very integral role at Simple Work Comp. Simple Work Comp helps other businesses find affordable workers compensation, payroll, insurance, and more.
According to Victor Sofia, they "really specialize in helping any businesses, even those having a tough time finding coverage."
One of the great things is that they can help virtually any size business, from a one-man company to one that is 500 men strong. They will "review and analyze what a company is doing, at no charge." Their goal is to make the lives of business owners easier.
When Frankie VanDeBoe started Simple Work Comp, he had a vision. He believed, and still believes, business owners and people in general need someone who has their best interest in mind.
The company offers so many options, products, and carriers to their clients. "We literally go to bat for them and narrow down the option that works best for them!" explained Samantha Hagy. Simple Work Comp doesn't just sell things a business needs, they analyze what is a perfect fit for the client and research options that are perfect for that specific company. The best part is – this is all free to the client.
Two of their company's employees, Samantha Hagy and Victor Sofia have worked at Simple Work Comp for almost 15 years. However, their partnership began only recently. Together, they provide the absolute best of both worlds, knowledge and customer service.
Samantha, one of the company's longest serving employees, takes care of administrative tasks, sales support, marketing and public relations. She is amazing at connecting with people and has a huge passion for helping others. "No one is better at it than she is", said VanDeBoe. She keeps everyone organized and makes sure those she meets feel welcome. "Anyone that has a chance to speak with her knows right away she is there to help and will make sure they are taken care of explained Victor Sofia.
Victor is a senior consultant and an expert in all aspect of the business. He has a great knowledge of the industry and knows exactly what each company needs. He excels in helping businesses in all 50 states (even the monopolistic ones) and those with difficult multi-state situations.
Of her partner, Samantha shared, "If I had a business in need of workers comp or payroll, he would, hands down, be the person I would call".
This team provides an expert in the field with incredible experience, and someone who will always go the extra mile to make sure you are happy. With Samantha and Victor, you get the whole package.
"I honestly feel a company is lucky to have these two going to bat for them and they are crazy not to call us," exclaimed VanDeBoe.
Simple Work Comp loves being able to serve people. Samantha Hagy explained that sometimes the "back office tasks" of businesses can be very stressful. Simple Work Comp loves to "take the burden away and simplify for them (the client), to help them be able to do their jobs and focus on doing what they love and making it profitable," explained Hagy.
Being able to save a business time, money, and stress is so important to Simple Work Comp.
"The work we do is sometimes the difference between a business being able to operate or being shut down," Victor said." With this partnership, you get two people doing their best to help, and to find coverage even when others have given up."
Simple Work Comp's office is located in Brandon, Florida, but their clients and services are located nationwide.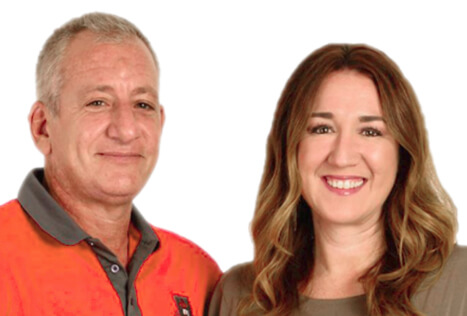 Call Simple Work Comp today and discover what they are all about.
1-866-684-5684
They love what they do, the people they work with, and everything about the business. For more information, visit the company's website at simpleworkcomp.com. You won't regret it!
Share