Simple Work Comp Workers Compensation Quotes

We provide accurate quotes;
No hidden fees; No surprises.
Workers Compensation Specialists
Need help now?
Call 1-866-684-5684 | Agents click here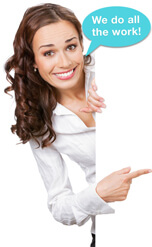 Business Owners
Work Comp Agents & Brokers
No Excessive Premiums
Avoid paying excessive premiums. Due to the tremendous volume of business we place with carriers, we're able to negotiate the best coverage and most affordable pricing available for your business type and state. Have your existing policies reviewed by one of our experienced consultants; a no-pressure complimentary service.
Avoid Lapse In Coverage
Keep your business moving with no delays. If your business is in danger of losing workers' compensation or any other type of coverage due to claims and/or excessive premiums, Simple Work Comp may still be able to find you the coverage you require at the most competitive pricing.
We Do All The Work
We'll make it easy for you right from the start. We handle all paperwork and state research so you can focus on running your business. We provide accurate quotes; no hidden fees or surprises. Our in-house consultants are some of the most experienced business insurance specialists in our industry.
Business Owners
General Liability
Worker's Compensation
Commercial Vehicles
Professional Liability
Manufacturers Insurance
Homeowners Insurance
Flood Insurance
Contractors Insurance